Affiliate Program - easy way to earn money in Second Life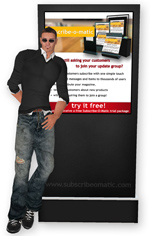 Are you looking for an easy way to earn more money in Second Life? A way to make your Subscribe-O-Matic subscription pay for itself? Or just like Subscribe-O-Matic so much that you want everyone to use it? :)
Affiliate Vendors
Here's how it works:
A potential customer touches your Subscribe-O-Matic affiliate vendor.
The customer receives the Subscribe-O-Matic package.
The customer signs up for one of our paid Subscribe-O-Matic plans.
We pay you a solid L$750 commission!
We keep paying you a generous 10% commission every time the customer renews or upgrades their subscription.
Our Affiliate Program is completely automated and extremely easy to participate in - you simply rez our affiliate vendor at your location(s) and that's it. Vendors are unobtrusive, scripted to be as simple and lag friendly as possible - they have no listeners or sensors of any kind. All they do is contact our server when someone touches them. Our server then sends them the latest version of our trial package, and records your referral.
How to start:
Grab our free copyable Subscribe-O-Matic Affiliate Vendor from Second Life Marketplace. If you don't use the Marketplace, you can simply drop us a line and we will send you our affiliate vendor in-world asap.
Place the vendor at your location(s) around Second Life.
If you have a Subscribe-O-Matic subscription, you will also be able to track all your referrals in the Referrals section of the web administration panel.
Blog posts and articles
Have you blogged about Subscribe-O-Matic? Written an article, or a review? Our service relies strongly on word of mouth, and we have been expanding steadily in the last few months, thanks to all of you spreading the word about it - either blogging about it, writing articles and reviews, or just pointing it out to your friends.
As a thank you, we would like to give something in return - so if you have blogged about us, or posted an article or a review somewhere, just drop us a line and we will add one month to your Subscribe-O-Matic subscription.
If you don't have a Subscribe-O-Matic subscription, but you have a friend that uses it, just tell us your friend's name, and we will add a month to their subscription instead. :)
Disclaimer: articles or blog posts need to be your original work, and should include a link to http://www.subscribeomatic.com website.